Welcome to Kerala Numismatic Society
The Kerala Numismatic Society is registered under the Travancore Cochin Literary Scientific and Religious Society Registration Act 12 of 1955.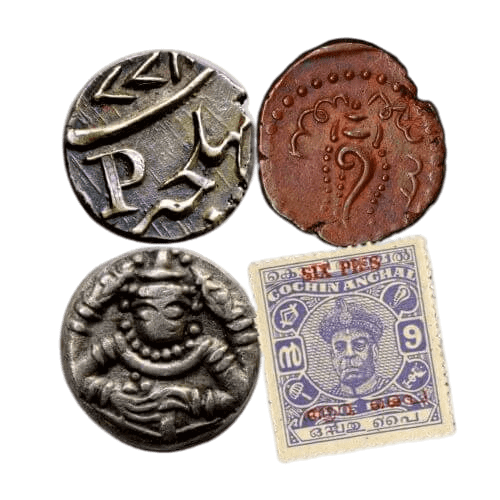 KNS brings together and provides opportunity to collectors whatever their hobby is and encourages them to take their collection forward whether it's Coins, Currency, Medals, Tokens, Stamps, Artifact or any collectable they fancy, while focusing on creating a genuine interest in numismatics.
Today coin collection is one of the fastest growing hobbies in the world and next only to Vintage cars. Investing in the right coins is also considered an investment option.
Stamp collection is called the king of hobbies. As one of the oldest and most popular world pastimes, coin collecting is now often referred to as the "King of Kings among Hobby".
One may think that to collect coin is very difficult. But we handle coins every day, if a person just goes through the coins in his pocket, he will find many different coins and from this he can start his collection. But to find and learn about old coins one should know another collector, seller and dealer. It is here a club or society plays its important role. Through frequent monthly meeting, exhibitions, educative sessions, exchange and sale of coins, The Kerala Numismatic Society has succeeded in spreading the message among enthusiasts that numismatics can be embraced as a serious hobby.
Our Aims & Objectives
The Kerala Numismatic Society welcomes numismatists of all ages, beginner and expert alike. Come and join the thousands of collectors who are already taking advantage of the KNS meetings, programs and services to become more knowledgeable and proficient in numismatics. Our major objectives are